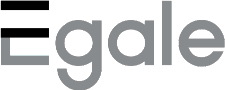 Egale Canada
About Egale Canada
Egale Canada is Canada's leading organization for 2SLGBTQI people and issues. We improve and save lives through research, education, awareness, and by advocating for human rights and equality in Canada and around the world. Our work helps create societies and systems that reflect the universal truth that all persons are equal, and none is other. 
Egale is proud to be one of the five Ecosystem Partner organizations selected to support 50-30 Challenge participants by helping them become more responsive to their diversity and inclusion needs. 
As we recognize that each organization is unique and requires a custom approach to building a more diverse workplace, we are collaborating with organizations that represent and advocate for various equity denied groups, including Congress of Aboriginal People (CAP), Canadian Council on Rehabilitation and Work (CCRW), Equal Voice and Foundation Emergence to help develop our tools and resources. 
Areas of expertise:
Non-profit sector
Supporting 2SLGBTQI employees
Supporting Women and Nonbinary employees
Indigeneity and Decolonization in the Canadian workforce
Benchmarking Inclusion, Diversity, Equity and Accessibility
Road mapping and Change Management
How we can support 50 – 30 Challenge Participants:
Egale and our collaborating partners are contributing to the Ecosystem by
Helping Challenge participants assess the current state of equity, diversity and inclusion in their workplaces through benchmarking using Diversio. This support will be made available first to Challenge participants that are non-profit organizations with between 20-100 employees.
Building capacity through increased understanding of promising practices for inclusion across five equity-denied groups
Identifying clear and detailed roadmaps for improving equity, diversity and inclusion for Challenge participants.
Creating a policy help desk to work with participants on their unique roadmaps
Producing virtual workshops and resources for Challenge participants to improve the state of inclusion at their workplace.
After benchmarking, Challenge participants are given a roadmap / recommendations and are provided with training and tools including thematic workshops, webinars, a policy toolkit, and access to a helpdesk to increase their practice of Equity, Diversity, Inclusion and Decolonization. Then they're asked to a second measurement on benchmarking to gauge progress 6 – 8 months following the first measurement.
We have partnered with diversity data experts, Diversio to provide benchmarking through a cutting-edge platform.